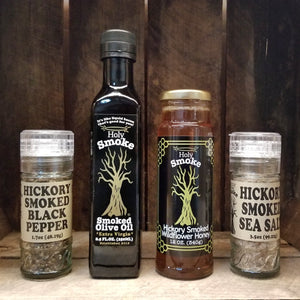 The perfect gift box for all of your friends and family who love smoked food. And who says you can't get yourself a nice gift every once in a while, or all the time. You'll probably need to re-up once a month. The Pantry Essentials includes:

1 bottle of Smoked Olive Oil (8.5fl.oz.)
1 jar of Smoked Wildflower Honey (12oz.)
1 jar of Smoked Black Pepper (1.7oz.)
1 jar of Smoked Sea Salt (3.5oz.)
Boom.